Now
Hey my name is Johnny, I'm the current Chairperson of HURT, Have Your Tomorrows. I have been in my position for coming up a year in May, before this I was a committee member for 7 years. I like to think I'm a hands-on Chairperson; I have a great relationship with the management and staff, so I know what's happening in HURT. I share the same goal as our manager – for us to become more self-sustainable, and not rely heavily on funding. I believe we have steadily done this over the years and the recent addition of a business coordinator will further this goal.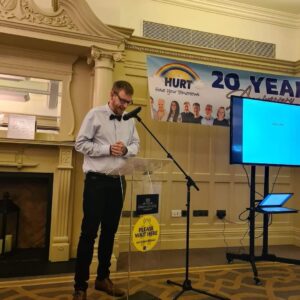 The Beginning
My early childhood wasn't your typical one. I grew up in Nazareth House children's home. I was lucky in the fact that I loved growing up there. I have loads of happy memories of my time. I never really experienced any other way of family life that I can remember, so it was all I knew and I like to think I thrived there. Things changed on June 15th when I was 10 my Mammy passed away, she lost her battle with Alcohol, and I moved out of care to live with my father. I have to say I really struggled with "normal" family life.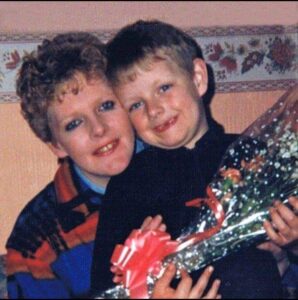 The Spiral
At the age of 10 was my first suicide attempt, 11 was the first time I tried Alcohol, by 13 I started to self harm, starting not eating and then moving onto cutting at the age of 17. At the age of 15 my bother passed away and things got darker for me. Home life became very difficult. At the age of 16 I moved out to my cousins, life was ok for awhile. At 17 I moved back to Derry, moving into the Strand Foyer, within months I started drinking heavily, over the next 3 years everything fell apart due to my drinking, lost family, friends, and girlfriends. I was self harming almost daily, suicide attempts became very frequent. This was the beginning of a dark decade or so of my life.
In hindsight I was just a lost boy wanting his mammy, then losing my big bro, the person I looked up to, in my eyes the head of my Family. I had no idea how to deal with that in a healthy manner.
Early Successes
Even though I was drinking heavily I did have some successes. Thanks to the amazing staff in the Strand Foyer, in particular my key worker Margaret, and Zest, I was able to work through my self harming and suicidal thoughts. Although there were some relapses, by the age of 25 I'd finally overcome this.
The Start of my HURT Story
At the age of 18, I first went to HURT. I was drinking heavily, so on the advice of The Strand Foyer I went to HURT. I wanted to drink "normally." I thought this was possible, so I was in and out of HURT. In hindsight I have realised that this was something I could never do. But HURT never closed the door on me. Sadie even gave me the opportunity to become a volunteer with HURT. This gave me a sense of purpose, something I never before really felt I had. This was the beginning of my HURT story.
Wasted Opportunities 
Now even though it was a dark decade I had some amazing opportunities. These involved travelling throughout Germany, Spain, Malta, and Italy. I'd love to say I made the most of them but unfortunately I didn't. However, I saw some amazing places and best of all made some great friends along the way, so it wasn't all bad. My lowest point probably came in Italy in 2016, leaving Italy in disgrace (that's my opinion) after 8 months of a 10 month project. I had some amazing memories and experiences in Italy, but the heavy drinking affected my work, my colleagues and my bosses, so they had to end the project. Even though Italy was my lowest point, it also was the start of the comeback as it introduced me to someone who helped me turn my life on its head.
The Comeback Begins
I met a girl (always the way – lol) she meant the world to me; she was the first person who opened my eyes to the harm my drinking was doing. In November 2016 I went back to HURT, this time I had a simple conversation with Sadie, I basically said to her I need to stop drinking. I started my counselling with Donat in January 2017, I made a number of breakthroughs in the next few months, pouring drink down the sink for the first time, and even staying sober for 10 days. Unfortunately in March the relationship ended, I was left with a difficult choice to make. I could turn to drink, the thing that had been my crutch for so long or go to rehab, meaning I surrender completely to my addiction. I went to Cuan Mhuire for 3 months, that was intense, the self work done there. I learned a lot of cool tricks that I still use today, coming out of Cuan Mhuire I was determined to stay sober and get the girl back. This second part would be my first of two hard lessons in recovery;
You can't get sober for someone else

You can't promise to stay sober
In my first year I was trying everything people were telling me to do to stay sober, from AA to exercise to making amends etc, but I still relapsed twice.

The Comeback Continues 
On March 18th 2018 after my second and final relapse, I said to myself we are going to do this our way, no one else's way, we are doing this for me. So I turned to a book called "Starve the Monster" by Dr Hugh M Quigley and I haven't looked back since. Suddenly it was my addiction, and it was my recovery. I had responsibility over my life for the first time. I knew now every morning it was responsibility to wake up, pick up my sword and shield, and prepare for battle. In the 4 years of sobriety I've done a lot of self development work. Some of the biggest ones are getting diagnoses for Autism, Anxiety and Depression. All of which have helped me to understand myself and my past behaviours. I've repaired the damage I did in Italy. I now count those people as my dear friends, funnily in those rocks of Matera; I built the foundations of my comeback, and discovered my home.  And probably the biggest and most important thing to happen is that I have gotten my family back. I used to be Johnny the Alcoholic, who felt like a disappointment. Now that's been replaced by Johnny, a son, brother, uncle, friend, cousin, grandson, and Chairperson.

My Advice
If you think you're drinking too much, ask someone who you love, do you think I'm drinking too much? and listen to their answer. We are normally the last ones to know we are addicted.

Take that first step to your own comeback story, call HURT 02871369696.